Eventhough a lot of our marketing is digital we still require printed marketing material as well. We can assist you with all your business printing requirements.
Flyers
Flyers, pamphlets, and leaflets are the most effective and inexpensive print-based marketing tools available! These circulars or promotional leaflets are designed to be distributed on a massive scale. Flyer design is, therefore, extremely important, and creating an eye-catching flyer is no easy feat. In a time when South Africans are bombarded with countless flyers, your brand must stand out and grab your customers' attention. Cleverly worded, attractive, and purpose-driven flyers boost business and sales. Our high-quality flyer printing process ensures a high-impact, bright finish and hardy feel that will give your brand the edge.
Business Cards
Business cards are a surefire way to communicate your unique brand value instantly! That is why choosing a business card design that will not only effectively represent your company but simultaneously market your product or service is absolutely imperative. Our high-quality business card printing process ensures a beautifully bright finish and hardy feel that impresses potential clients!
There are many ways to use your business card to surprise and delight your clients; we offer lamination, gloss overlay, matt finish, and various cutting and folding techniques to help you stand out.
Folded Leaflets
Maximize your marketing efforts with folded leaflets! our high-quality printed leaflet designs are folded in three creative ways to amplify your brand's message with the clever use of space. Choose from our five sizes, from the spacious and practical A3 folded Leaflet to the Petite DL Square Leaflets, which are perfect for turning heads. Folded leaflets are an ideal way to share more detailed information in a visually appealing way. Suitable for various uses, from promotions to providing product information to new and existing clients.


Posters
High-quality poster printing meets a high-impact brand message that is a match made in marketing heaven! Our poster printing and design service offer excellent print quality, fast turnaround time, and free delivery. Ideal for shops, offices, conference events, and personal use.
We know that poster mounting can be tedious, so we've added self-adhesive options to make life a little less sticky. All of our posters are complete with a superior satin matt finish.
Booklets
Booklet printing has a nearly never-ending list of possible applications for both personal and professional use. Whether you're looking to create a magazine, catalog, or program to showcase your products and services, our high-quality, expertly printed booklets have got you more than covered. Printed in various sizes and paper options, you don't have to hold back when making your choice.
From practical yet stylish stapled brochures to perfect bound booklets, printed on and finished on your choice inner/cover paper.
Invitations
Stand out from the crowd and host your coveted event in style when you choose to create unique, custom invites for your personal or professional celebration.
Elevate your event to red-carpet status with stunning printed invitations! Our customized invitations, announcements, and thank-you cards are expertly printed on premium paper to ensure brilliant color rendering, and a sophisticated look finished with a velvety touch.

Placemats
Custom-designed placemats will enhance your décor and create a memorable dining experience for your customers. Table mats finished with unique messaging and appetizing artwork will stimulate customers to try new items or learn about your brand when you cannot market to them face-to-face. Table placemats are ideally suited to restaurants, and these placemats can be laminated to ensure longevity and extended use.
Convey your message in a visually effective way that is affordable and unique to your business. Our high-quality placemat printing process uses a combination of vibrant inks coupled with superior paper to give your tableware mats the stand-out quality that every customer desires.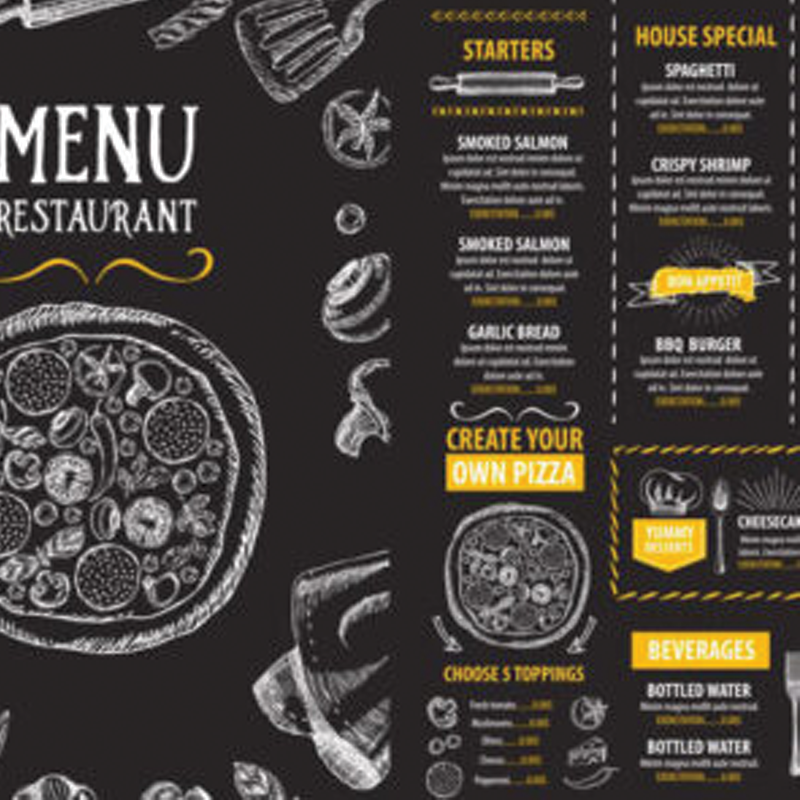 Menus
Customers love looking at menus with great visuals–they appeal to their sensory appetite. It cleverly influences their decision, as it is a lot easier when they can visualize what they are ordering. This applies to both food and drink menus.
Your menu is your marketing tool; it is also an ambassador of your establishment. Do not let an opportunity to impress go to waste. Customers tend to prejudge the establishment's quality and food based on how they resonate with the menu. If the menu is poorly printed or does not have enough information, it will hamper your customers' experience. If you want return business, you should not compromise on quality.
Make a great first impression and put your best food forward with LJL Business Solutions's menu printing services.
Letter Heads
Letterheads are absolute necessities when it comes to basic business stationery and a proven staple when tendering for new business. Therefore ensuring your letterhead design is perfectly printed inspires an air of professionalism that accurately showcases your reputation. That's why we took the fuss out of company letterhead printing and made it easy with our online printing process, quick turnaround time, and delivery throughout South Africa.
Our high-quality letterhead printing technique ensures that each page is expertly printed with your company's corporate identity and contact information. The bond finish and vibrant ink will ensure that your business documents exceed your competition.

Wall Calendars
Printing a custom company calendar effectively gives your brand visibility 365 days a year. Our wall calendars are expertly printed for a high-quality finish that impresses employees and clients. Be creative, and take company stationery to the next level by customizing your brand message and uploading photos.
Perfect for welcoming the new year with practical gifts for clients that will effortlessly showcase your company's marketing message. Whether you create a fun family calendar, a stunning business calendar, or celebrate another year with your club or league, we have an all-encompassing online printing solution.
Pull-Up Banners
Pull-up banners allow you to get levels up on your competitors; creatively designed banners coupled with powerful messaging is exactly how your banner will stand out from the rest. Using bright colors and clean, simplistic artwork will capture your audience and draw them to your brand – a tried and tested marketing tool.
Our high-quality pull-up banner printing process comprises superior weather-proof latex ink that is brilliantly printed on thick, hardy, crease-proof vinyl sheets—ensuring that your stand-up banner will inspire a standing ovation and hopefully have your customers stampeding to your stand.
X-Banners
X-banners are lightweight and easy to assemble and transport, which makes them ideal for advertising on the go. They are most commonly used in retail stores, conventions, tradeshows, roadshows, conferences, and everyday advertising stands. They are called X-banners due to their X-like frame, which collapses and can fit into a portable carry bag with minimum effort. X-banners are an affordable and powerful way to convey your message at any event, indoor or outdoor. X-banners are considerably more cost-effective than their PVC-printed counterparts, such as Roll-up Banners and PVC hanging Banners.
Banners
Banners are at the top of the visual marketing hierarchy when it comes to high-impact, in-your-face brand exposure – you just can't go wrong with these. But it is no easy feat, making banner design an important step for creating a stimulating and attention-grabbing wall banner. Creating a custom banner for events and businesses in South Africa has been made easy with our online printing process and nationwide delivery.
We know that well-designed banners should also be durable and weather-resistant, our tie-up banners are ideal for outdoor events and other occasions where you want your brand to be seen. Our high-quality printing ensures that colors won't fade over time, your banner can be used repeatedly, and will always look great.
Stickers
With the rise of Guerrilla Marketing in South Africa, we have seen an increase in the creative use of stickers in Advertising. Sticker printing has moved beyond the "bumper sticker" stereotype and has been replaced by promotional stickers of all shapes and sizes for application onto carrying bags, books, windows, water bottles, laptops, hardware, equipment, signs, phones, and promotional gifts.
Our promotional stickers can be affixed to almost any surface and are an affordable yet effective means of increasing brand recognition. They can easily go where other marketing materials can't, and with the right design or message, they can contribute to word-of-mouth advertising for longer periods of time.

Fridge Calendars
Magnetic Fridge Calendars are a practical and fun way to keep the spotlight on your business 365 days a year! Our expertly printed, customized fridge calendars offer an opportunity for your brand message to be communicated while actually gifting your client with a handy year planner that barely requires any effort to mount.
Printing Fridge Calendars with your company branding may well be the most low-cost, top-of-mind brand awareness tool you can use to reach your customers daily! Wow, we all go to the fridge – some more than others, and there you are on the fridge, marketing to us effortlessly again!